What is an electropherogram?
It is a graphical depiction of data received from the machine which analyses the DNA samples. An electropherogram may  be generated for any of our tests including paternity testing.
The process behind it is known as electrophoresis which involves tracking the motion of isolated particles in a fluid and subjected to an electrical field. Sequences of a superior quality will be characterised by sharp, high peaks as shown below. This graph is exclusive to each individual and obviously varies depending on one's own sequence. EasyDNA can provide you with your very own one-of-a-kind record of your electropherogram.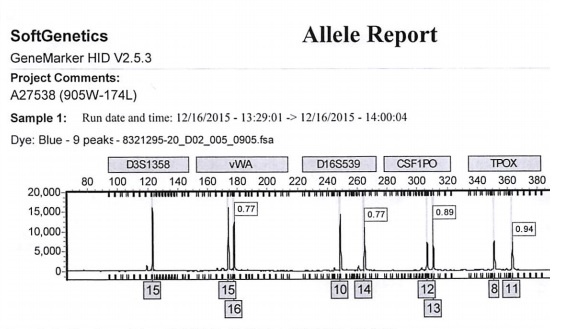 How do I order mine?
When purchasing your test you will have the choice of ordering your own electropherogram. When you have chosen the test you need, you will be given the option of also your electropherogram; just click/tick on the option: electropherogram (£40)
An additional charge will be added onto your final price – your order will be registered into our system and recorded. By ordering an electropherogram, the DNA sequence will be provided for each person taking part in the test.
Can an electroferogram be ordered after I have received my results?
If your tests were done by EasyDNA then you can order your electropherogram. If you are already an existing customer, just send your request with your full name and case reference number. Availability of this service depends on how long ago your DNA test was concluded. Our customer support team will advise whether we can assist with your request.